Nov 7, 2017
|
JD.com Partners to Support the 2017 CFDA/Vogue Fashion Fund Dinner
JD.com, China's largest retailer, has partnered with the Council of Fashion Designers of America and Vogue to support the CFDA/Vogue Fashion Fund Dinner to celebrate the 2017 finalists on Monday, November 6.
The 2017 winner and two runners-up will be announced at the dinner gala at The Weylin in Brooklyn. The evening will also feature keynote speaker Maria Grazia Chiuri, Artistic Director of Christian Dior, in conversation with Vogue International Editor at Large Hamish Bowles. Karlie Kloss will introduce the conversation.
The 2017 finalists are: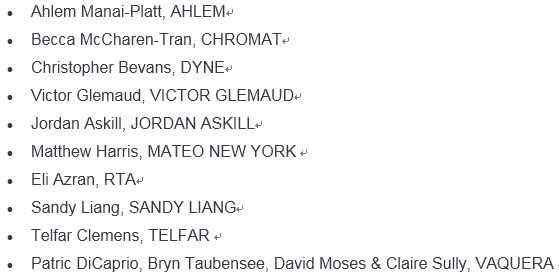 "JD is proud to support the CFDA/Vogue Fashion Fund in its quest to develop young talent," said Xia Ding, President of JD Fashion. "The luxury market in China is quickly growing and the Chinese consumer has a strong appetite for American fashion and an eye for new and interesting brands.  It is our duty to support emerging designers as they are just beginning to grow their businesses. We are excited to help bridge the next generation of American design talent with the Chinese fashion community."
JD helps brands engage with China, the world's second largest consumer and luxury market, and expand their customer bases into the country. With the launch of JD Fashion earlier this year, JD is supporting designers and meeting demand from their customers who are increasingly looking to brands in the U.S.  and Europe to express their individuality.
"The annual CFDA/Vogue Fashion Fund dinner is the important conclusion to CFDA's and Vogue's work in supporting the future generation of American fashion, and appreciate JD for recognizing the value in new American talent," said Steven Kolb, President and CEO of the CFDA.
In addition to invaluable mentorship by established designers and industry executives, the winner will receive a monetary prize of $400,000 and the two-runners up take home $150,000 each.